Last time we talked about my friend Alicia, who married for the wrong reasons. First, she married to fix herself—she thought a husband would make her feel less insecure and more worthy. And because of pressure from family and friends. She went into her second marriage to get something—in her case a baby, but many marry to get money or power or glamour.
So when Alicia married the third time, she made a list of pros and cons. She waited a couple years before she consented because she didn't want to make another mistake. But it turns out the third time she was marrying for the right reasons.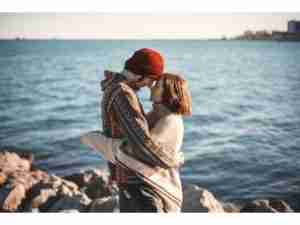 So what are some good reasons to get married?
Declare your love and trust. There's a great line in an Elvis song: "Take my hand, take my whole life, too."  When you marry, you are telling your partner that you love and trust him with your very being. With your whole life. You share with your partner everything you are and you love and trust him to take good care of it. Not only do you need to take care of each other, you both have to take care of yourselves. Another oldie but goodie song says, "Button up your overcoat when the wind blows free. Take good care of yourself, you belong to me." You have to take care of yourself for the sake of your partner. All that you are, you give to him and all that he is, he gives to you. Marriage is a declaration of your love and trust for each other.
You can't not love him. You're not choosing to be with your partner for any other reason than you can't be apart. You can't imagine your life without him and he can't imagine his life without you. You like being with each other, day in and day out, under all kinds of circumstances. You love each other's company. You like how you feel and act around him and he feels the same way. Your intense early love may slow down and take some bumps in the road, but you know you'd rather take those bumps together than alone. This isn't a choice—you're simply connected to this person so strongly that you belong together. Back to Elvis' song again: I can't help falling in love with you.
Solidify your commitment. Nobody gets married thinking they'll get divorced one day because marriage is supposed to be a permanent state. You get to breathe a sigh of relief that you no longer live in the unsettling state of limbo. Marriage gives you a sense of finality, of being confident in your relationship. When you commit to marriage, you are seeing your future and your partner inextricably linked. You are mentally and emotionally grounded in ways that free you to be your best self. Knowing you have a lifelong commitment to your partner, you are more likely to support him and help him be his best self because that is also best for you. And likewise, he will support you because that's good for him too. When you both have a partner who is loved and supported, you both thrive.
My friend Alicia finally decided, after she wrote out lists of marriage pros and cons, that she simply didn't want to be without him. The pros and cons may have been a good exercise, but in the end, they just wanted to be together. And marriage, for them, was a symbolic way of demonstrating how they felt about one another.
Nancy Travers is an Orange County Counseling professional. If you need safe, effective counseling services, please get in touch. You can reach her here: https://nancyscounselingcorner.com/contact