The short answer? Yes. Because nobody's perfect. Because relationships have their ups and downs. Because you are human. You may think things will work themselves out sooner or later. Or you may think that if your relationship is meant to be, it will be, no matter what. The truth is, there are things you can do to make your relationship better.
But what constitutes a good relationship? Studies show certain behaviors portend a solid relationship—like compromise, commitment, forgiveness and effort. Couples who know how to fight fair, have satisfying sex, remain faithful, reignite romance, agree about money, nurture each other, work toward mutual goals, have fun together—those are the ones who have a good chance of doing well. There are plenty of exceptions, of course. You and your spouse should talk about what you think constitutes a good relationship and work together to achieve it.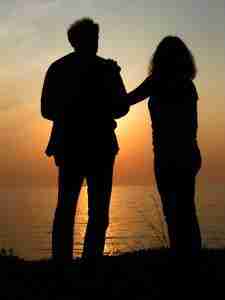 You might think it takes enormous effort to work toward a great relationship, but there are plenty of small things you can do that will enhance your experience as a couple.
Dance in the kitchen. Or wherever. Dancing with your partner is a way to feel physically close and emotionally close, too. It's a great way to spend an evening, but even if you can't get out, any room in the house will do. And hey, it's a way of working on your relationship that doesn't feel like work.
Put down your phone. Or your iPad or your laptop. Think of how your partner feels when you would rather text a friend than spend a little face-to-face time with him? Carve out sacred time each day when no electronics are allowed. Use that time to do more than cover the logistics of your life together. Share your thoughts and dreams and experiences. And do some quality listening, too.
Do something new together. When your relationship is new you feel excited by the mere thought of your partner, but that kind of excitement is unsustainable. What you can do, though, is try new things. That releases chemicals in your brain that make you feel pleasure. And meanwhile, you're building a bond with your partner. Traveling to new places or just trying a new restaurant builds mutually happy memories.
Hold hands. Even if you don't like holding hands, touch can be such a positive thing. Studies show that when your partner touches you in a warm, comfortable way—even just holding hands—you will be more confident about feeling loved by her. And when you have a better feeling about your partner, you're likely to treat her better too. And then you'll both feel better.
Express your gratitude. Sure, it's easy to place blame and find fault. But resist that tendency. Instead, be on the lookout for things your partner does to make your life and your relationship better. Does he take out the garbage without fail? Does she pick up the slack when you don't want to do the dishes? Make a point of noticing when your partner invests in your relationship and let them know you appreciate it
Nancy Travers is an Orange County Counseling professional. If you need safe, effective counseling services, please get in touch. You can reach her here: https://nancyscounselingcorner.com/contact