Falling in love is easy. It's getting up, brushing yourself off, and making an effort to sustain a relationship that's the hard part. Yet it's so worth it because lasting love is its own reward. There is nothing sweeter than a committed relationship that stands the test of time.
But all relationships go through peaks and valleys. And sometimes they break in those valleys. How can you develop a strong relationship that survives the hard times? Some thoughts:
Know your partner's love style. I have a friend whose husband is not very verbal, seldom tells her he loves her, but he always gasses up her car before the empty light blinks on. He also really did give her a vacuum cleaner for her birthday. He helps make her life easier (and yes, he does his share of house-hold chores but vacuuming isn't one of them). It's his way of saying he loves her. He's a practical guy, and that's his love style. Luckily, she appreciates it, and he appreciates her when she flirts with him. She has a playful love style. He knows she'll never give him the socket wrench he needs, but he's okay with that.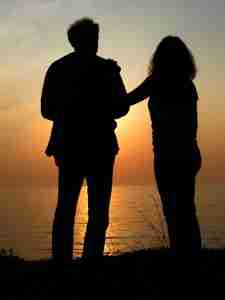 Do something new together. Studies show that experiencing something new stimulates the brain's reward system, the same system that was aroused when you first fell in love. You remember the feeling—almost like you were addicted to your partner. Romantic love stimulates dopamine pathways that are associated drug and alcohol addictions but also with euphoria and bliss. And novelty. When you do something new together, you bring back at least some of the excitement you felt when you first met. When you share new experiences often, your chances of having a happier marriage are better than your friends who do the same things, even if pleasant.
Have sex early and often. If you want to have a long and happy marriage, have a lot of sex early in your relationship. Studies show that those couples who have frequent sex in their first year will still have a robust sex life long into the relationship. Sure, the frequency of sex declines as the marriage matures, but if you have a lot of sex to start with, you will still enjoy plenty of sex even when it decreases. And studies show committed couples really do have more sex than others.
If your sex life is lackluster, get it back on track. Sometimes all it takes is talking about it. "I've noticed we haven't had sex lately. Is there something I can do?" Maybe it's time to rekindle those seductive date nights. Or maybe it's time to experiment with something new—see above. Or maybe you just have to schedule it like everything else in your crazy busy life. Even if you're not in the mood, give it a try. Pretty soon your hormones will be triggered and if you just let it happen, you'll be surprised how quickly you can get in the mood. Sex is good for your relationship, so make it a priority.
Nancy Travers is an Orange County Counseling professional. If you need safe, effective counseling services, please get in touch. You can reach her here: https://nancyscounselingcorner.com/contact.