Thinking of making New Year's resolutions? A lot of people choose the beginning of the year as a time to take stock, reflect on their lives and prepare for a successful year ahead. And what are the most popular goals? Losing weight and getting healthy. Such laudable goals are great and help you get the most out of your life. Here are some other ideas that will help you be the best you can be.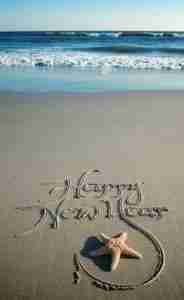 Work on your relationships. Improving relationships that are important to you will help you feel happier and more connected. It's hard, especially when you've got a busy life, to find enough time to nurture relationships. But it's time well spent. Resolve to set regular date nights with your spouse. Make calling your parents a weekly ritual. Organize a girlfriend outing. Put these things on your calendar and follow through.
Get a fulfilling job. If your job is stultifying, or even if it's just less than inspiring, consider making the effort to change. You spend a lot of time in your working life, and you should feel that that time is well spent. Sure, it takes a lot of work to make a change, but what a big difference it will make in your life. Focus on what would be a better job for you—not just a different one. Make a list of the steps you need to take. Cultivate a mentor to help you.
Enrich yourself with culture. If you want to be an interesting—and interested—person, broaden your cultural horizons. Many people grow up in households where opera or ballet or modern art are frowned upon as boring and effete. But these arts existed for a long time for a reason. Give yourself half a chance of liking them by doing a little homework before going to the museum or the theater. Find out what the story of the ballet is. Learn about the composer of the symphony. Read reviews of the play. Get a synopsis of the opera in English and take it with you. Don't give up until you find something that delights and intrigues you.
Practice being green. Set specific goals for yourself that you feel comfortable with. There are so many options for you to choose from for being kind to the planet, from small efforts—like reusing shopping bags—to large—like buying an earth friendly car. Try cloth bags instead of plastic for storing food. Get metal straws that come with tiny spiral cleaning brushes so you can reuse them. Pick one or two things that you can do consistently to make a difference. Consume less. Reuse more. You'll feel better about yourself.
Venture out of your comfort zone. Seek out things that you haven't tried before or that will stretch you a bit. Take that class you've always wanted to try, learn a new language and exercise your brain, hike a different trail that might be a little more arduous than you're used to. Try developing a new hobby like playing the guitar or painting watercolors. Experiment to find your favorite activity.
Do something selfless. By putting others before yourself you can actually do something for yourself in the process. When you make the world a better place, you'll feel better, too. So make a special effort for a friend who needs you to visit. Or help out at the food bank. Or take a meal to a shut-in. Or just do something small, like telling the barista she has a great smile. Set your intention to help others.
Nancy Travers is an Orange County Counseling professional. If you need safe, effective counseling services, please get in touch. You can reach her here: https://nancyscounselingcorner.com/contact