You never begin your relationship with the idea that you'll end up separated. In fact, how you will handle your separation was the furthest thing from your mind when you were putting up drapes and hanging pictures together. But you know the reality—half of marriages end in divorce and that means couples separate.
Sometimes spending time apart will be just what the doctor ordered. It gives both parties a chance to reboot, rethink their grievances and return to the relationship renewed and refreshed. And sometimes it means that time spent apart is a tonic and you're better off going your separate ways. In either case, it's an awkward period fraught with anxiety and very difficult emotionally.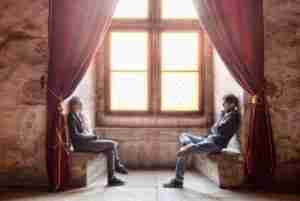 So how will you get through this trying time?
Count to ten before you speak. Precisely because you're feeling emotional, it's easy to fly off the handle and say hurtful things. While you never want to say terrible things to your partner, you especially don't want to if your separation is temporary. The fact that you've said toxic things may impede a reunion that might otherwise take place. And when you get back together those terrible things can, and probably will, come back to haunt you. So count to ten before you lash out and try to remain calm. Remember that it's always a good idea to be kind.
Don't rush things. There is simply no point in going to all the trouble to separate so you can have time to think if you don't give yourself enough time to think. You are at a challenging time in your life and you want to do the right thing. Big decisions take time. Think about the good times and bad. Weigh the pros and cons. Imagine your future together and apart. Analyze practical aspects such as finances and living arrangements. Calm down and take as much time as you need.
Embrace aloneness. Being alone doesn't have to be lonely. It can be a very instructive time to get to know yourself and how you're feeling. Learn to enjoy your own company and revel in your independence. Even though it may feel good, a romantic relationship is not a good idea right now. It will not help you clear your head. And it may muddy the waters if you try to get back together. That said, you could go overboard keeping everything locked inside as you struggle through a dark time all by yourself. Now is the time to enlist the support of friends and family who can help.
No fair pressuring your partner. You've separated to give him time to think, too. You may be beside yourself with anxiety about what decisions he's going to make but you simply have to take a deep breath. Practice meditation. Take up yoga. Learn a new hobby that will engross and fascinate you. Try to use this time to your best advantage. Think of it as a gift that you can do whatever you please without having to consider your partner.
The old "Keep Calm and Carry On" slogan applies when you're separated. It's hard but it's necessary. Whether you get back together or not, you are entering a new phase in your life. If you don't get back together, you'll need to muster the strength to move on. If you do get back together, you'll need to find a positive way to return to your partner so you can both move forward as a couple. We'll talk about that next week.
Nancy Travers is an Orange County Counseling professional. If you need safe, effective counseling services, please get in touch. You can reach her here: https://nancyscounselingcorner.com/contact